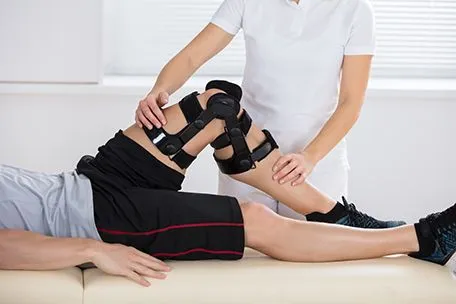 What is Physical Therapy?
Integrative physical therapy is a form of treatment that involves looking at the whole body in order to achieve well-being, target the symptoms of pain, and restore a patient to optimal health.
Performed by certified health care professionals known as doctors of physical therapy, this integrative approach targets the neurologic, musculoskeletal, and somatic systems in a patient working towards movement of the body that's free from pain.
Physical therapy is a treatment offered to our patients as part of our physical rehabilitation treatment plan to help a variety of ailments, including:
recovery from a sports-related injury
chronic pain
joint mobility and flexibility issues
reduce the need for surgical and drug treatments
What are the Different Types of Physical Therapy?
Physical therapy is individualized and based on a patient's overall health, current symptoms of pain, as well as the presence of pre-existing health conditions and injuries.
Physical therapists are considered experts in movement of the whole body, optimizing your quality of life through the use of exercise, physical manipulation, and education to restore motor skills and reduce chronic pain.
Some common forms of physical therapy that we offer our patients include:
Physical (spinal) manipulation techniques
Myofascial release
Visceral manual therapies
Postural exercises
Joint stability and mobilization
Education in pain management without the use of drugs or surgical intervention
Active therapies, including yoga
Common Symptoms We See in Our Patients
Patients who seek physical therapy as part of their physical rehabilitation program usually experience the following symptoms:
Chronic neck, shoulder, back, or knee pain
Sports or traumatic injury
Pelvic pain as a result of sacroiliac (SI) joint dysfunction
Sciatica
Post-surgery rehabilitation to regain mobility
What is Causing My Need for Physical Therapy
Physical therapy may be prescribed to patients experiencing acute or chronic pain as a result of:
Sport injuries
Osteoarthritis
Spinal injuries and degeneration
Mobility issues
Rehabilitation after surgery
Postural imbalance
Repetitive stress or overuse syndromes
Trauma
If you're looking to avoid surgical intervention and prefer non-drug modes of therapy when treating your symptoms of pain, physical therapy may be right for you.
How Will We Use Physical Therapy
As part of our physical rehabilitation program, physical therapy is prescribed to patients seeking a non-surgical and non-drug-based approach to treating mobility issues and pain.
Physical therapy focuses on improving our patient's quality of life by maximizing the amount of pain-free movement after each session. The type of physical therapy prescribed is individualized and depends on the patient's health history, symptoms, and level of mobility.
It's not uncommon for physical therapy to help you rehabilitate after surgery, prevent the incidence of future injuries and heal your chronic symptoms of pain.
Evaluations and physical therapies are approximately hour-long sessions. Most patients report an improvement in symptoms and overall well-being after several sessions. Depending on your needs, physical therapy may be prescribed for several months to optimize your overall quality of life.
---
If you are dealing with mobility issues, chronic pain, or post-surgical complications and want to learn more about integrated approaches to improve your condition, call Scott Wagner Integrated Medicine in Charlottesville, VA, at (434) 978-4888 to learn more.
---